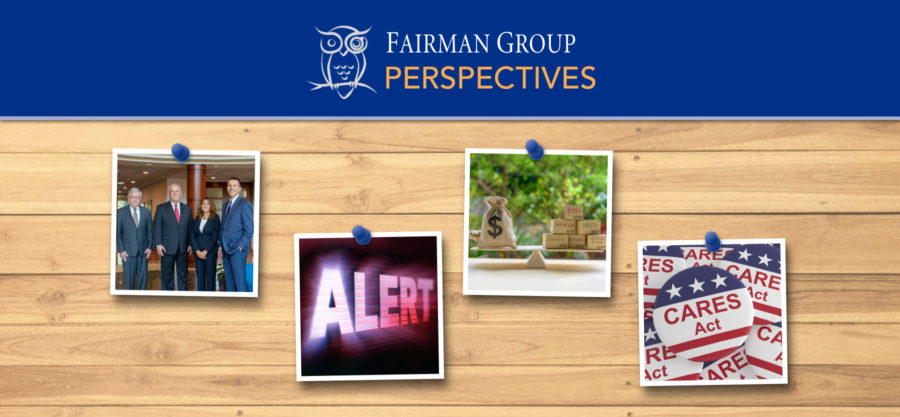 LATEST NEWS AFFECTING YOUR FINANCIAL LIFE
As we begin to think about getting back to work and whatever comprises the 'new normal', we've been thinking about how the coronavirus pandemic affects you, your families, and your businesses—and your financial future. In case you've missed it, click here to our news section containing original content developed by our thought leaders at Fairman Group Family Office. In addition, we'd like to share recent articles curated from our partner, Broadridge Advisors.
The IRS recently issued a warning about various schemes related to economic impact payments that are being sent to taxpayers under the Coronavirus Aid, Relief, and Economic Security (CARES) Act. The IRS warns taxpayers to be aware of scammers who use words such as "stimulus check" or "stimulus payment" instead of the official term, "economic impact payment", and other methods. Read More >
In a volatile market, it's easy to allow your emotions to influence your investment decisions. But if you can keep your cool while those around you are losing theirs, you may be able to take advantage of potential opportunities. One way to do that is by reviewing your portfolio to determine if it's time to rebalance your asset allocation or modify your level of diversification. Rebalancing means adjusting your portfolio to get it back to your original target allocation. Read More >
A 10% penalty tax generally applies to distributions from an employer retirement plan or individual retirement account (IRA) before age 59½ unless an exception applies. Due to the coronavirus pandemic, the penalty tax will not apply to up to $100,000 of coronavirus-related distributions to an individual during 2020. Read More >
IF THESE OR OTHER TOPICS ARE ON YOUR MIND,
CONTACT US TODAY.
FAIRMAN GROUP HAS A TEAM OF EXPERIENCED, CREDENTIALED PROFESSIONALS READY TO HELP.